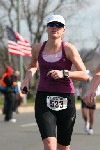 Welcome to The Running Coach. Here you will find a fun, challenging and highly personalized approach to reaching your running goals. Most runner's can benefit from a coach. Good coaching can take your running to the next level. Enjoy what elite runners get to enjoy, personal attention to their running needs. My vision is to coach you to a healthy running lifestyle and to reach the goals you have set for yourself.

As your personal coach I will get a detailed picture of where you are currently and where you'd like to be. A training plan, specific to you and your individual needs, will be developed. You will receive encouragement, motivation, as well as all the practical advice and information surrounding your training.

I coach runners of all abilities. From the beginner to the seasoned racer who wants to set a new personal record. Whether you have lost motivation, need help starting a running program, or need guidance on moving to the next level, I can help. I truly enjoy coaching and getting to know each of my runners. I aim to truly listen and to make myself available always. I aspire to offer a highly personalized coaching while making it fun!


"After several years of unstructured workouts and injuries, Coach Christine provided challenging but structured workouts that kept me from injury. Using those structured workouts for 2 years, I have decreased my 10k time by over 3 minutes, 5k time by 1:24, and PR every other race. Thanks to Coach Christine for her understanding of my work schedule, my long emails, and helping me create a running lifestyle." Steve, Michigan Runner



Contact me now for a free consultation.
Phone: 410-562-2277
Email: TheRunningCoach@comcast.net

Happy Running!!

Send mail to TheRunningcoach@ with questions or comments about this web site.
Copyright © 2005 The Running Coach